TiB Concerts Blog
March 20, 2010 12:43 AM
By: It's Probably Music
Come out to Stubb's tomorrow all day (10:30am-4pm) if you're in Austin, Rachael Ray is having an awesome party with live music!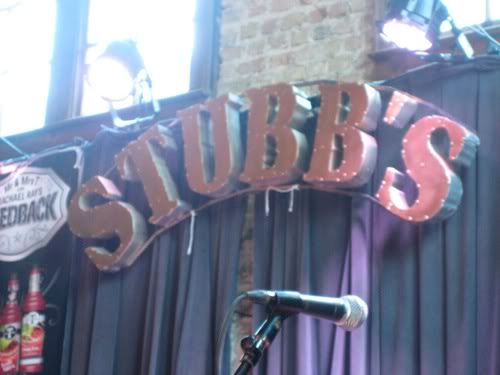 The line up includes: She & Him, Jakob Dylan and Three Legs w/ Neko, Case & Kelly Hogan, Street Sweeper Social Club, Andrew W.K., Dr. Dog, Bob Schneider, School of Seven Bells, Local Natives, The Cringe, Justin Townes Earle, Freelance Whales, Steve Conte and the Crazy Truth, Pearly Gate Music, Lawrence Arabia, J Roddy Walston and The Business, The Orion Experience, Shayna Zaid & The Catch, and Mishka.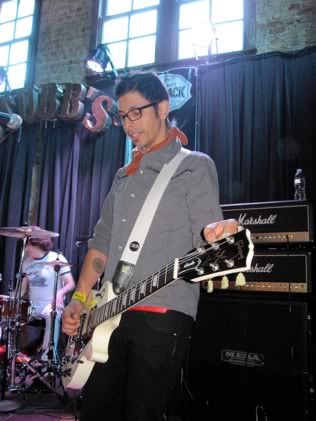 If that's not enough to convince you, there will be free drinks (brought to you by Mr. and Mrs. T's drink mixes, food (recipes from Rachael Ray herself), and Daytrotter Recording Sessions live inside!
It's open to the public and FREE, but get there early, it's going to fill up fast!
Stubb's BBQ
801 Red River Street
Austin, TX
Hope to see you there!
( 7 ) comment(s)
-
Permalink
-
RSS
Keywords: She & Him, Jakob Dylan and Three Legs w/ Neko, Case & Kelly Hogan, Street Sweeper Social Club, Andrew W.K., Dr. Dog, Bob Schneider, School of Seven Bells, Local Natives, The Cringe, Justin Townes Earle, Freelance Whales, Steve Conte and the Crazy Truth, P
March 19, 2010 11:34 AM
By: It's Probably Music
Come see the Orion Experience play two acoustic sets today!
First: 12:30pm @ Whole Foods Gateway
Second: 2pm @ Space 12 (www.space12.org)…
and, if you're headed to Space 12, make sure to check out The Greatcoats at 1pm!
( 5 ) comment(s)
-
Permalink
-
RSS
Keywords: Whole Foods, Music, SxSW, The Orion Experience, Space 12, Greatcoats
March 18, 2010 02:48 PM
By: It's Probably Music
The Orion Experience has arrived in Austin for SxSW!
We're having a blast, we went to a fair yesterday! We watched swine sprints, ate fried pickles, bought cowboy hats! Last night we got the chance to do an acoustic performance on the AOL Lifestream bus at the corner of 5th Street and Colorado in downtown Austin.
Check out the video blog from last night:
We love you! More updates soon!
( 3 ) comment(s)
-
Permalink
-
RSS
Keywords: The Orion Experience, SxSW, South by South West, Music, AOL Lifestream
March 18, 2010 02:34 PM
By: Captain Morgan
Freelance Whales found one another in late 2008, in Queens, amidst a strange amalgam of unfamiliar instruments, and precariously arranged pop songs. Using whatever musical gadgets they happened upon (mostly harmonium, banjo, glockenspiel, synthesizers, guitars, bass, drums, waterphone), the five members worked at crafting songs with interlocking rhythmic patterns, lush textural layering, and an engaged group-vocal energy. The result is their debut LP, weathervanes, whose songs work at evoking a sense of dislocation, or sensory disorientation. They invite the human spirit to exit the body, if only for brief moments. Freelance Whales can be spotted in the streets and humble venues of New York City, and in due time, elsewhere.
Freelance Whales Concerts SXSW 2010
( 6 ) comment(s)
-
Permalink
-
RSS
Keywords: Freelance whales, SXSW 2010
January 29, 2010 01:16 PM
By: Captain Morgan
Every night during the Winter Olympics in Whistler, BC over 5,000 people will gather in the brand new Whistler Medals Plaza to cheer on and share the excitement of the day's medal winners. Musical entertainment and live concerts from national and international performers will complimet the ceremony. How cool is that?
Concerts include All American Rejects, Estelle, Pierre Lapointe, Feist, Our Lady Peace, Deadmau5, Hedley, Stars, OneRepublic, The Fray, Jet, The Roots, K'Naan – Almost 50 different artists and concerts. See a complete listing of all WHISTLER LIVE! CONCERTS
( 4 ) comment(s)
-
Permalink
-
RSS
Keywords: Whistler live concerts, 2010 olympics,
January 28, 2010 10:27 AM
By: Captain Morgan
The International Songwriting Competition is the #1 song contest for songwriters with over $150,000 in cash and prizes shared by 65 winners.
The (ISC) is an annual song writing contest for both aspiring and established songwriters to have their songs heard in a professional, international arena. Amateur and professional songwriters and musicians are invited to participate and get a chance to win over $150,000 in cash and prizes.
ISC's panel of judges are recognized and respected professionals and can provide the opportunity to have your songs heard by the most influential decision-makers in the music industry.
Entries for 2010 will open in February, 2010. Check ISC for more information.
TiBconcerts.com has seen and heard some pretty cool talent over the years and the ISC can help bring it to the next level.

( 2 ) comment(s)
-
Permalink
-
RSS
Keywords: songwriting competition, songwriting contest, 2010 songwriting, ISC
January 27, 2010 12:12 PM
By: Captain Morgan
The Justice Department gave the green light at the top of the week for the Ticketmaster – Live Nation merger making them an even bigger force in the music industry.
Dig it?…
Ticketmaster has increased service fees on tickets for years and with their acquisition of modern day scalper TicketsNow it gave them the ability to charge even more for the same ticket – and they did.
Since Live Nation became the 800 pound gorilla in the concert promotion business, face value ticket prices have doubled and they have expanded their business to manage hundreds of venues from House of Blues on the sunset strip to The Roseland Ballroom in New York City.
The newly formed Live Nation Entertainment will control 140 million tickets sold across 140 venues that play host to major touring acts as well as an artist management division and a ticket broker. Effectively dominating most aspects of the live music supply chain all the way down to beer sales and parking at the venues.
Alarm bells rang for the Justice Department back in 1948 in a landmark case against Paramount Pictures. A content provider and distributor could not own the theaters where the movies were shown. Something about a monopoly and fair competition and not in the best interest of consumers. Apparently in 2010 an artist management company/ticketing company/venue company bell does not ring as loudly.
Silver lining – absolutely. For local and Indie music this represents a huge opportunity to reach live music fans seeking an alternative to overpriced lip-synching. Think about it, for the price of a $100 major artist concert ticket, you could see several local shows AND still have enough to buy a round of good beer for your friends.
Also important to know is that local music supports local artists and local business. Imagine the impact of hundreds of millions of dollars being pumped back into local economy instead of wall street or a casino.
Remember, all artists and bands started locally from Dublin's U2 to Houston's Beyonce. Not only will you realize better value for your entertainment dollar but you might catch a performance by the next big thing without paying the price for it.
TiBconcerts.com has been connecting local fans with local bands for over 6 years. No revolution here – just good times and great music. Go see live, local music!

Captain Morgan
( 3 ) comment(s)
-
Permalink
-
RSS
Keywords: ticketmaster merger, live nation merger, indie music, live music, local music scene
January 21, 2010 04:51 PM
By: Captain Morgan
On Tuesday evening I attended the Bette Midler show at The Colsseum in Ceasers Palace in Las Vegas. I call it a show because that's exactly what it was contrary to my earlier belief.
I mistakenly assumed that I would be treated to a string of nostalgic
tunes performed by one of my long time favorite artists. I don't mean
to give the impression that it wasn't a good show, only I was a little
disappointed that Bette Midler didn't do more singing. Instead, she spent a great deal of time walking across the very large stage telling jokes, some of which were pretty raunchy and not to my old fashioned taste.
Throughout the performance, Bette was surrounded by 15+ scantily dressed showgirls whom she called the Caesar Salad Dancers. When Bette finally got around to the singing, she delivered everything as promised. It was amazing how this diminutive woman was able to belt
out our favorite tunes with such a clear strong voice. Backed by one of the best orchestras on tour it was show worth seeing.
Thanks NotJustTheKitchen.com,a site for baby boomer women for the Bette Midler review. See more concerts in Las Vegas as well.
( 2 ) comment(s)
-
Permalink
-
RSS
Keywords: Bette Midler, las vegas concerts, concerts in las vegas, the colosseum, ceasers palace
November 06, 2009 05:45 PM
By: Captain Morgan
How does a band or venue schedule concert that is search engine friendly? After all, live music is only considered good when someone actually hears you play. I don't want this blog post to be a 101 on "how to schedule concerts" but there are some basic elements that venues, promoters and bands need to think about when they put a show on stage.
Consider the consumer's perspective in how they find concert schedules. Search engines continue to be the single most popular way to find local concerts and if your concert schedule is not search engine friendly then you are missing a significant opportunity in reaching local concert fans.
Concert related search volumes (Google September 2009):
CONCERT : 11,100,000 searches
NEW YORK CITY CONCERTS : 74,000 searches
RED LION PUB : 3,600 searches
The terms listed are among the millions of keywords consumers query everyday on the major search engines to find a local concert schedule including city, date, concert, artist and venue specific keywords. The opportunity for local music to reach local fans is as simple as making concerts search engine friendly when they schedule concerts.
For example, I went to The Red Lion Pub last week (one of the best New York city venues BTW). They do allot of things right from amazing sound, live music 7 days a week and a near perfect pint but how they schedule concerts is definitely not search engine friendly. The Red Lion concert schedule landing page is in an iFrame, there are no title tags and random images block some of the dates so you can't see the concerts on those days.

I would recommend a separate page for The Red Lion Pub concert schedule that includes title and meta tags to be search engine friendly and use a concert widget instead of an iFrame to be user friendly. Not only are these tactics simple and inexpensive to implement but also makes it easy for the red Lion to schedule concert on an ongoing basis.
I am looking forward to working with the Red Lion in how they schedule concert that are search engine friendly. The Red Lion is a Bleeker Street institution and an important part of the New York music scene – a scene that continues to evolve in creativity both online and on stage.
Find New York City Concerts today., New York City Venues or to learn more on how to schedule concerts that are search engine friendly contact us today.
( 4 ) comment(s)
-
Permalink
-
RSS
Keywords: schedule concert, concert schedule, schedule conerts, red lion pub, new york city concerts,
July 10, 2009 03:13 PM
By: Captain Morgan
Matisyaho – A self-professed Deadhead and Phish follower has come along way from White Plains. Last night's show in Central Park New York City attracted an eclectic crowd from Hoolahoopers to Neil Young look-a-likes to Wall street newbies. Definitely a good time and some incredible on-stage talent.
Central Park as a venue worked well – the event was a fundraiser to support more free concerts in the park (Summerstage 2009.). Even with the lack of porta-potties, the $5.80 ticketmaster "service fee" and running out of chicken (sorry, Cameron!) the space worked.
Matisyahu was joined by Umphrey's McGee – an American progressive rock/jam band from Chicago known for "progressive improvisation". Definitely made for an interesting to start to the show but I think the UM fans were more entertaining than the band.
More upcoming SummerStage concerts – July 2009.
I'd like to get your feedback on the show – comments welcome/under this post.
( 0 ) comment(s)
-
Permalink
-
RSS
Keywords: matisyaho, central park concerts, summerstage concerts, umphrey's Mcgee concert
July 06, 2009 02:43 PM
By: Captain Morgan
" She didn't hesitate to call Ice Cube the Top Gun….Today was a good day"
if you remember the lyrics to his signature song in a banner year for Ice Cube, you need to see his upcoming Montreal show.
When was the last time Ice Cube performaed in Montreal? I couldnt tell you but I've been a fan for over 10 years and wont miss the opportunity.
See you there…more info on Ice Cube below.
Legendary Hip Hop icon, ICE CUBE, is coming to the Telus Theatre on July 16th!! State of the Art light & sound that will blow everyone away!!
An amazing show at an amazing venue!! With hosts Keith Dean and Redd Dredd.
Plus all-star line-up Bad News Brown, Magnum 357, Mayhem Morearty, Sans Pression and CHUB-E Pelletier.
Tickets are $44.49 at Admission.com or City Styles, Off The Hook, SubV and contacting globalnttpresents@gmail.com
Tickets are limited so get yours ASAP!! Go To: www.admission.com / www.clubzone.com
Thursday July 16 – Telus Theatre (1280 St. Denis St.) – 9 pm
O'Shea Jackson (born June 15, 1969), better known by his stage name Ice Cube is an African-American rapper, actor, screenwriter, and producer. He began his career as a member of the rap group N.W.A along with group leader Eazy-E, and later launched a successful solo career in music and cinema. In 1992, he married Kimberly Woodruff, with whom he has four children, and converted to Islam.23 From the mid-1990s onwards, Cube focused on acting, and his musical output has slowed down considerably. He remains one of the most visible West Coast rappers, having helped originate gangsta rap.
http://en.wikipedia.org/wiki/Ice_Cube
( 1 ) comment(s)
-
Permalink
-
RSS
Keywords: Ice Cube Montreal, ice cube concert, ice cube show
July 05, 2009 03:03 PM
By: MGSF
Happy Sunday!
Today's marks the 3rd Sunday of the 72nd Stern Grove Festival. Bring your family, friends and some treats while sitting in the Sun and the park.
See you there!
Sunday, July 5, 2009 at 2:00 p.m.
Sigmund Stern Grove, 19th Ave. & Sloat, San Francisco
Stern Grove Festival presents an annual favorite, the celebrated San Francisco Symphony, with conductor James Gaffigan.
The afternoon kicks off at 2:00 p.m. with an opening performance by "Inouye Jazz" featuring SFS principal trumpet player Mark Inouye, SFS principal bassist Scott Pingel, SFS percussionist Raymond Froehlich, and guitarist Jeff Massanari.
At 3:00 p.m., the San Francisco Symphony will perform excerpts from Tchaikovsky's Swan Lake, Tchaikovsky's Piano Concerto No. 1 in B-flat minor, Opus 23 with pianist Inon Barnatan, Gershwin's An American in Paris, and music by Leonard Bernstein from the movie On the Waterfront.
Cheers!
@matthewgonzales
@tibconcerts
( 1 ) comment(s)
-
Permalink
-
RSS
Keywords: Stern Grove Festival, San Francisco Symphony, Inouye Jazz
July 02, 2009 06:37 PM
By: MGSF
Hey all,
Welcome to TIBConcerts.com. Come back often to find out more about Indie Artists in the San Francisco Bay Area. If you are are an indie artists and looking for some great exposure or just looking to find out what's going on in the city give us a looks see.
Till next blog!
Cheers,
Matthew M. Gonzales
@matthewgonzales
@tibconcerts
( 1 ) comment(s)
-
Permalink
-
RSS
Keywords: San Francisco Music, Indie Artists, Bay Area Indie Artists, Independent Music Artists
June 14, 2009 03:35 PM
By: Captain Morgan
NXNE 2009 in Toronto is one of Canada's biggest music festivals now in it's 15th year.
Last year over 70,000 concert fans, bands and industry folks descended into Toronto live music venues to see some exception and not so exceptional talent.
This year NXNE 2009 is even bigger boasting 500 local, national and international artists and bands the chance to showcase for thousands of fans, agents, talent buyers, media, promoters, labels and management companies at a variety of essential Toronto venues.
I'll get the final lineup for NXNE 2009 including bands, venues and Toronto concerts. If you want to contribute or if I miss anything let me know on this blog.
Also, you can buy NXNE 2009 concert tickets here
( 1 ) comment(s)
-
Permalink
-
RSS
Keywords: NXNE 2009, Toronto concerts, Live music Toronto
June 10, 2009 10:49 AM
By: Captain Morgan
More coming soon!
( 0 ) comment(s)
-
Permalink
-
RSS
Keywords:
March 11, 2009 07:42 AM
By: Tina P
By tinap
So here I sit, contemplating what I may need to see this up coming Canadian Music Week. BTW – what's with the name change? There are many bands that I want to see, but between my full time job and my part-time love life, I don't know how my liver will ever survive.
The week starts off by moving a new boy into my space. I mean, I have been living here, on my own as a single female in Toronto and this, albeit very cute boy whom I have a ridiculous amount of little things in common with, moves in the week of CMW! Man, eh to put a damper on my week of debauchery – I will have someone to report to, no wait – this is my place and I pay the bills Dammit!!! LOL, I kid – he's very sweet, but bad timing ;)
The menu this week is vast, I think I will start on Thursday night by catching Sloan at the Mod Club. An intimate venue and I haven't seen this band since my college day when they did the campus tour in the fall. Love South Central Ontario – if you were a fan of anything deemed college radio – you could follow them around the province at a nominal charge, with student id.
I am also hoping to catch Gene Simmons speak at the Royal Note as the Week' keynote. It'll be interesting to see if he has anything to say outside of Gene Simmon's Family Jewels, or will it be the same old episode rehashed with the odd partnership with Belinda Stronarch?
Friday night – Indie night at the Royal York followed by The Horse Shoe is a must on my hitlist. Saturday night – The Morning After Girls at the Tanzac…and from there, whatever the night will bring, will bring.
Check in with me at the end of the week to find out if I come out spleen in tack.
Have a great week!
T
( 0 ) comment(s)
-
Permalink
-
RSS
Keywords: cmw, prelude
February 21, 2009 08:45 AM
By: Captain Morgan
cotton is king. The historic 1914 Burton Farmers Gin* is nestled in the heart of Burton, Texas – located on the same site where it was built almost 100 years ago! Thousands of visitors tour the historic cotton gin annually and enjoy exhibits at the Burton Cotton Gin Museum. Burton, a small rural German community of 350 is conveniently located halfway between Houston and Austin on Hwy 290.
At the end of the day this is the Music festival for emerging music, Texas awsomness and family good entertainment.
Texas concerts are HUGE – this is the place to be.

Enjoy!
Captain Morgan
( 2 ) comment(s)
-
Permalink
-
RSS
Keywords:
November 06, 2008 07:32 AM
By: Captain Morgan
by Captain Morgan
Maybe it was the Obama effect or just the super chill vibe at The Metropolis but Michael Franti & Spearhead just killed it.
Why is Franti & Spearhead the best $26 I've spent on a ticket? These guys can play. Passionate, intense, super-talented and intelligent. A social message wrapped around dub infused soul with hard hitting dub rock. It was the slap and tickle of entertaining AND delivering a message that so many artists fail to deliver. I left the show feeling good about the world…and had a blast. Power to the peaceful!
Smitty thinks bass and drum is the cornerstone of life and the force behind the earth rotating on it's axis. Carl Young (Bass) and Manas Itiene (drums) make it seem like Smitty knows what he's talking about.
I shouldn't be surprised. Smitty knows a good funk-soul storm trooper when he hears one and these guys kept it tight, loud and syncopated. Combined with Raleigh J Neil (keyboard) + Dave Shul + Franti (vocals/Guitar), Michal Franti & Spearhead in concert is musically divers driving heavy overdubs of dance hall to soulful acoustic numbers that made me want to hit the St Ignatius studio and lay a patch.
Big up to Franti and spearhead…and Obama (Spearhead fan)
Look forward to the next show at Nokia Times Square Theatre NYC.
( 2 ) comment(s)
-
Permalink
-
RSS
Keywords:
November 01, 2008 09:17 AM
By: Captain Morgan
At TiB Concerts we live and breathe the music scene, so it seemed only natural to start blogging about it.

We have a passion for underground bands and artists, and our goal at TiB is to help bands promote their events, and to help fans find local concerts and keep up with their favorite mainstream and indie bands.

In the TiB Blog, we'll be sharing news from the industry, updates on what's happening at TiB, tips and advice for promoting your band, and a whole lot more. But most importantly, we'll be asking YOU to weigh in on the scene!

Got something to say? Send it to us at.
We'll keep your contact info confidential, but just might share your thoughts with the TiB community.
( 0 ) comment(s)
-
Permalink
-
RSS
Keywords: tib,blog